Organise, rationalise and clarify your offer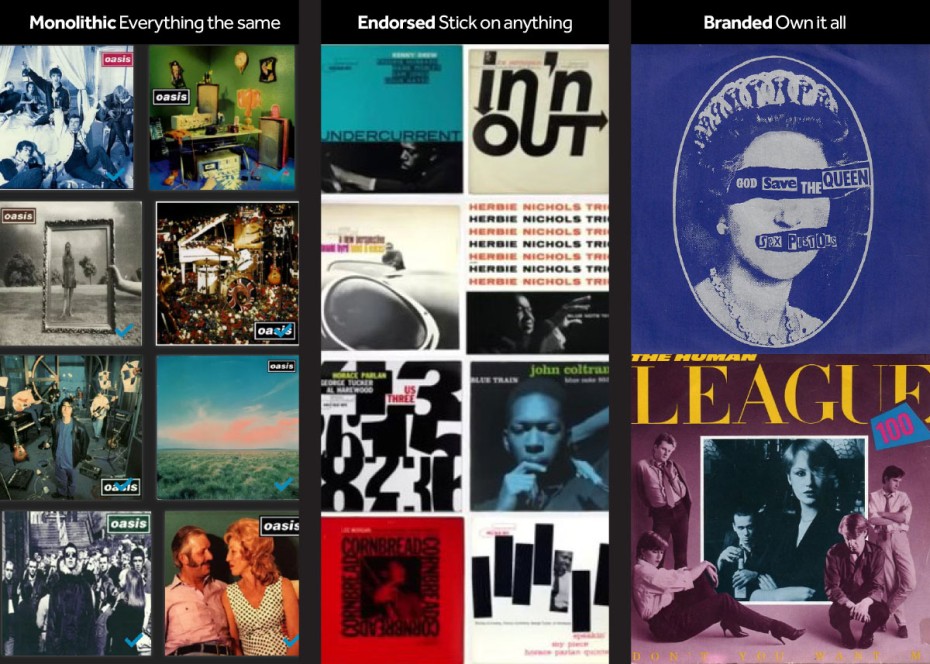 What's the best way to organise products and services in your business?
1. Monolithic?
Everything the same. One brand. Same style.
Remember Oasis (when they were good)? A meat and potatoes approach to music and branding that worked well until they changed their logo and photographer for the release of "Go Let It Out" and it was commercially and musically downhill all the way from there.
2. Endorsed?
Stick your brand on anything. One brand. Variety of styles with a common essence.
Just like Blue Note Records, It doesn't matter who the artist is, you know that you'll be getting a quality product. You'll buy it, before you hear it. And there's a level of expectation to what you might discover. It's just cool.
3. Branded?
Own it all. Just take over the market. Less visible brand. Many different styles.
Consider Virgin Records. Their first release was Mike Oldfield's Tubular Bells. Famously signed the Sex Pistols (banned by the BBC) and didn't get a number one single until The Human League with Don't You Want Me, a Christmas number 1 in 1981. (Cliff Richard was number 2 with Daddy's Home, released on EMI, which was previously part of Columbia, bought by Universal Music Group who now own Virgin Records, an imprint of EMI). You can literally do anything you want.
Join me at the Brand Lab tomorrow, where I'll be sharing insights into brand architecture and how you can organise, rationalise and clarify your offer, whilst chatting about your favourite music.
Brand Lab
Tuesday 25th October, 4pm GMT (11am EST)
Free event, register now to be reserve your spot.
https://link.pincreative.com/brandlab
#business #branding #brand #transformyourbrand